Annie Besant, Heretic, The Story of Annie Besant: Minister's Wife to Atheist to Theosophis
l
PRINT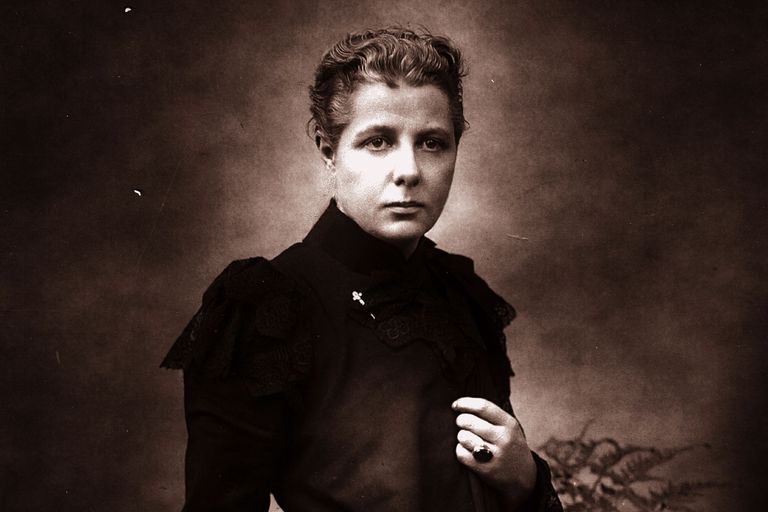 by
Jone Johnson Lewis
Updated June 04, 2017
Known for:
Annie Besant is known for her early work in atheism, freethought and birthcontrol, and for her later work in the Theosophy movement.
Dates:
October 1, 1847 – September 20, 1933
"Never forget that life can only be nobly inspired and rightly lived if you take it bravely and gallantly, as a splendid adventure in which you are setting out into an unknown country, to meet many a joy, to find many a comrade, to win and lose many a battle."
(Annie Besant)
Here's a woman whose unorthodox religious views included first atheism and freethought and later theosophy: Annie Besant.
Born Annie Wood, her middle class childhood was marked by economic struggle. Her father died when she was five, and her mother couldn't make ends meet. Friends paid for the education of Annie's brother; Annie was educated at a home school run by a friend of her mother's.
At 19, Annie married the young Rev. Frank Besant, and within four years they had a daughter and a son. Annie's views began to change. She tells in her autobiography that in her role as minister's wife she tried to help her husband's parishioners who were in need, but she came to believe that to alleviate poverty and suffering, deeper social changes were needed beyond immediate service.
Her religious views began to change, too. When Annie Besant refused to attend communion, her husband ordered her out of their home.
They were legally separated, with Frank retaining custody of their son. Annie and her daughter went to London, where Annie soon broke away completely from Christianity, became a freethinker and atheist, and in 1874 joined the Secular Society.
Soon, Annie Besant was working for the radical pape, National Reformer, whose editor Charles Bradlaugh was also a leader in the secular (non-religious) movement in England.
Together Bradlaugh and Besant wrote a book advocating birth control, which got them a 6-month prison term for "obscene libel." The sentence was overturned on appeal, and Besant wrote another book advocating birth control,
The Laws of Population
. Publicity denouncing this book led Besant's husband to seek and gain custody of their daughter.
During the 1880s Annie Besant continued her activism. She spoke and wrote against unhealthy industrial conditions and low wages for young factory women, in 1888 leading the Match Girls' Strike. She worked as an elected member of the London School Board for free meals for poor children. She was in demand as a speaker for women's rights, and continued to work for legalization and more available information on birth control. She earned a science degree from London University. And she continued to speak and write defending freethought and atheism and criticizing Christianity. One pamphlet she wrote, in 1887 with Charles Bradlaugh, "Why I Do Not Believe in God" was widely distributed by the secularists and is still considered one of the best summaries of arguments defending atheism.
In 1887 Annie Besant converted to Theosophy after meeting
Madame Blavatsky
, a spiritualist who in 1875 had founded the Theosophical Society.
Besant quickly applied her skills, energy and enthusiasm to this new religious cause. Madame Blavatsky died in 1891 at Besant's home. The Theosophical Society was split into two branches, with Besant as President of one branch. She was a popular writer and speaker for Theosophy. She often collaborated with Charles Webster Leadbeater in her theosophical writings.
Annie Besant moved to India to study Hindu ideas (karma, reincarnation, nirvana) which were foundational to Theosophy. Her Theosophical ideas also brought her to work on behalf of vegetarianism. She returned often to speak for Theosophy or for social reform, remaining active in the British suffrage movement and an important speaker for women's suffrage. In India, where her daughter and son came to live with her, she worked for Indian Home Rule and was interned during World War I for that activism.
She lived in India until her death in Madras in 1933.
A heretic who gave little care to what people thought of her, Annie Besant risked much for her ideas and passionate commitments. From mainline Christianity as a pastor's wife, to radical freethinker, atheist, and social reformer, to Theosophist lecturer and writer, Annie Besant applied her compassion and her logical thinking to the problems of her day, and especially to the problems of women.
More information:
Madame Blavatsky (H. P. Blavatsky)

About this article:
Author:
Jone Johnson Lewis
Title: "Annie Besant, Heretic"